Podcast: Play in new window | Download (Duration: 38:08 — 27.2MB) | Embed
Subscribe: Apple Podcasts | Google Podcasts | Stitcher | TuneIn | RSS | More
Jeanie Cisco-Meth shows how one can bully-proof your life in her new book Bully Proofing You: Improving Confidence And Personal Value From The Inside Out. Learn how to take a stand against bullying, a widespread serious problem that affects anyone at any given age.
We talk about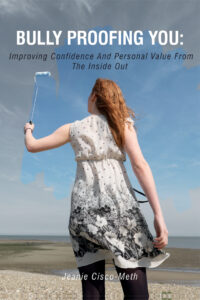 As a former member of the military, Jeanie has the honor of being sent to OCS. This leadership training helped her in many ways; from starting three very successful businesses to training staff, and mentoring others with their startups.
The first step to bully-proof your life is to pay attention to the bully between your ears. What is the message your mind keeps telling you? If the message is negative whether, from someone in your early childhood or a boss that attacked you daily, that message lodges in the subconscious and can affect us in a negative way.
This engaging step-by-step guide to preventing and dealing with bullying, Bully proofing You uses time tested techniques for improving self-esteem, dealing with bullies face-to-face, and even protecting others from being bullies.

Two -time best-selling author, professional speaker, educator, and parent, Jeanie Cisco-Meth shares her scientifically proven system for improving communication and decreasing conflict. She has written many magazine articles, been quoted in Forbes, and was a contributor for TheBlaze.