Podcast: Play in new window | Download (Duration: 34:59 — 25.2MB) | Embed
Subscribe: Apple Podcasts | Android | Google Podcasts | Stitcher | TuneIn | RSS | More
Corin Grillo talks about her book The Angel Experiment: a 21-day Magical Adventure to Heal Your Life.
You can create a magical 2020 working with the angels. Corin shows us how easy it is to work with the invisible beings around us. Why not create a new life, thrive and work your personal angel magic in 2020 following this easy to implement program.
Corin says "when you invite the divine to help you in your life daily, you are seizing an incredible opportunity to receive additional support, deep healing, and expedited manifestations of pure goodness. By hiring the angels to come to your aid, you are hiring the most powerful army known to humankind to whip your life into shape in beautiful, magical, and even miraculous ways."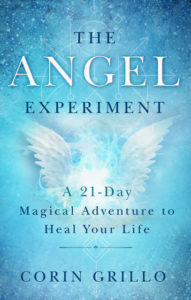 We talk about
Which specific angels will help to manifest more cash, more love, more peace, and more protection
Magical angel numbers
Angel invocations and prayers
Abundance magic
Vacuuming/detoxing with Archangel Michael and Raphael
Metatron and his cube
Subtle angel signs
The difference between prayer and invocation
What to expect working with the angels
The angels and nature
How to employ the angels to work for you in 2020
Corin Grillo is the author of The Angel Experiment and founder of the Angel Alchemy Academy. A trained psychotherapist, angel channel, healer, and teacher, Corin has helped thousands of people all over the world go from angel-curious to angel powered.