Podcast: Play in new window | Download (Duration: 36:19 — 25.8MB) | Embed
Subscribe: Apple Podcasts | Android | Google Podcasts | Stitcher | TuneIn | RSS | More
Beloved witch author and teacher Danielle Dulsky is back to talk about her new book Seasons of Moon and Flame: The Wild Dreamers Epic Journey of Becoming.
In this provocative book, Danielle explores the energy of the "Hag" teachers that so many of us have had in our lives. Danielle says " To be a Witch is not only to acknowledge these many seasons but to humbly and humorously live them." You may find yourself among the four witch archetypes.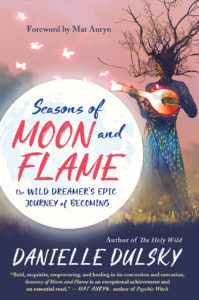 We talk about
The four houses of Hag energy
House of Garden Hag – Opening Spring's portal
House of the desert Hag – Opening Summer's portal
House of sea Hag – Opening Autumn's portal
House of Mountain Hag – Opening winters portal
How the moon affects each season
The moon's cycle as a pathway to a more profound spiritual practice
The importance of storytelling as a spiritual practice
Clear definition of the Hag
Hag tree healing
Seasons of Moon and Flame's "Year of the Wild," consists of thirteen chapters that correspond to the thirteen moon cycles, or lunations. These lunations are held in four parts that reflect the four seasons. Each season corresponds to an archetypal hag: the Garden Hag for Spring, the Desert Hag for Summer; the Sea Hag for Autumn; and the Mountain Hag for Winter. This book is a companion for the entire year, and each chapter is filled with rituals, stories, spellwork, and guidance.

Danielle Dulsky is a heathen visionary, pagan poet, and word-witch. She teaches internationally and has facilitated circles, communal spell-work, and seasonal rituals since 2007. She is the founder of The Hag School and believes in the emerging power of wild collectives, cunning witches, and rebellious artists in healing our ailing world.