Podcast: Play in new window | Download (Duration: 27:53 — 19.6MB) | Embed
Subscribe: Apple Podcasts | Android | Google Podcasts | Stitcher | TuneIn | RSS | More
The esteemed Dr. Ervin Laszlo talks about his new book Reconnecting To The Source: The New Science of Spiritual Experience., How It Can Change You, and How It Can Transform the World.

Twice nominated for the Nobel Peace Prize, is a renowned authority on science and philosophy Dr. Ervin Laszlo explores the implications of the new quantum sciences to move beyond the limits of reality as we know it – and find our way again in our "in-formed", purposively universe.

In Reconnecting to the Source he unpacks the science behind the spiritual experience, investigating ways in which we can access realms of experience beyond the everyday. It is in these moments, when our conscious minds are in contact or perhaps even overridden by our unconscious selves, that we can explore the depths of spiritual meaning.

Reconnecting includes new, never before published contributions from such well-known, high-integrity writers and public figures as Jane Goodall, Barbara Marx Hubbard, Ahi-Gang Sha and more. Each of these distinguished authors has written about a spiritual experience of their own, wherein they share moments in their lives that are outside the boundaries of the usual and reflect on the significance.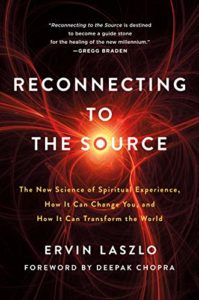 We talk about
What is The Source
How to reconnect to the source
The importance of mankind to be one with source
The evolutionary process
How to move with the laws of the Universe
The world is a hologram
Spiritual experiences dismissed in modern times
Discovering your authentic self
His thoughts on the Corona Virus
Why humans lost the connection but animals connections are strong
The Akashic Field and the Source
Ervin Laszlo is the editor of the international periodical World Futures: The Journal of General Evolution and Chancellor-Designate of the newly formed Globalshift University. He is the founder and president of the international think tanks Club of Budapest and the General Evolution Research Group and the author of 83 books translated into 21 languages. He lives in Italy.