Podcast: Play in new window | Download (Duration: 43:51 — 30.7MB) | Embed
Subscribe: Apple Podcasts | Android | Google Podcasts | Stitcher | TuneIn | RSS | More
Fierce Feminine Rising: Heal from Predatory Relationships and Recenter Your Personal Power reveals a map, a template that Sohpia was given as she wrote the book. It is a map of our absolute awakening our return to the heart. Believing in uncompromising truth, reckless beauty, and courageous love, knowing that life is worth more than money and that there is nothing greater, nothing more important, nothing more sacred than protecting the sacred spirit deep within life
After millennia of suppression, The Fierce Feminine, or Dark Mother, is making a dramatic resurgence to express our universal outrage. She is rising collectively now, and many women- and men- are feeling a welling up of sacred rage inside, a calling to set things right in our won lives and seek justice for those who can't defend themselves.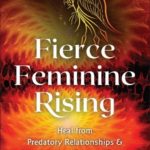 We talk about
Sacred rage
Defining fierce feminine rising
How acceptance is unacceptable
What is the Dark agenda
Suppression of interconnectedness
Dangerous predators in the spiritual community
Who are the Archons and their mission
Prince Andrew
Melania Trump
Seven ways to ignite the fierce feminine
The dark night of the soul
Yoni eggs and removing negative sexual energy
Prince Harry and Megan
Reclaiming your own feminine power
The difference between being an angry bitch and being fierce

Anaiya Sophia is a mystic, author, and teacher of Kundalini yoga. She teaches workshops throughout the world and is known for her role in the creation of a mystical temple dedicated to the Sophia – Isis- Magdalene lineage, where women and men come to heal and receive embodied gnosis.