Podcast: Play in new window | Download (Duration: 40:08 — 36.1MB) | Embed
Subscribe: Apple Podcasts | Google Podcasts | Stitcher | TuneIn | RSS | More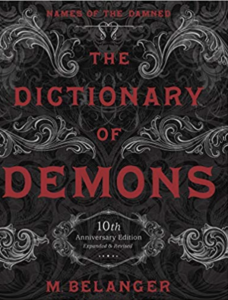 The bestselling 10th Anniversary Edition of Dictionary of Demons is now an even more comprehensive resource on a subject many are afraid to explore. You will discover an expanded introduction, extended articles, an update to the Decans of the Zodiac, additional entries, and dozens of new illustrations. The Dictionary of Demons: Revised and Expanded includes more than 1,700 demons and short articles on demonology, and a wealth of illustrations, making it one of the most valuable reference books in the field.

Know your demons
will untangle the myths of demons and show you how demons can be very useful in a most positive way. Of course, some demons are in support of negativity. Opposites exist everywhere – right and wrong, good and bad, light and dark in the demon world. Knowing who you are calling on is crucial for success in obtaining the assistance of the demons. The knowledge shared is also crucial for optimal protection while exploring the "other world."
We talk about
The advantage of working with demons
How demons help you to work through the lessons you agreed to learn in this lifetime
Embracing darkness and the light in energy work
A quick sure- fire way to release demons instantly
Personal proection using goding, centering and sheldig
How shadow work heals the mind and soul
The history of occultism and the development of attitudes towards the occult
How to deal with negative hauntings and unwanted visitors
Michelle is the wonderful 150-year-old haunted Bed and Breakfast owner named Inspiration House in Oberlin, Ohio. Check it out!
Her other sites
patreon.com/haunted – special access to video's, live chats, Q&A's and much more
M. Belanger is an occult expert, educator, media personality, and author of over thirty books on paranormal and occult topics. Founder and lead clergy of the magickal group House Kheperu, Belanger is most widely recognized for work as a psychic on A&E's Paranormal State and Osbourne Media's Portals to Hell. Consulted for numerous documentaries, books, and courses, Belanger has lectured on paranormal and occult topics at colleges and universities across North America and was a National Merit Scholar. A prolific and versatile creator, Belanger has also contributed work to projects as wide-ranging as Marvel AR, HBO's True Blood, CNN Headline News, CSI, Nox Arcana, and multiple RPGs.