Podcast: Play in new window | Download (Duration: 50:30 — 35.2MB) | Embed
Subscribe: Apple Podcasts | Android | Google Podcasts | Stitcher | TuneIn | RSS | More
Nomoli Ben talks about sacred carved figurines.
These ancient figurines found in the Sierra Leone, Guinea and Liberia area of West Africa bring tremendous healing to those who possess them.
Ben Vonderheide and family have taken a strong interest in the ancient stones that have a connection to the Dogon Tribe in Africa. The Dogons live as in ancient times and have limited contact with the outside world.
Nomoli is long published in scientific, academic and African circles. They were first discovered outside of West Africa when Portuguese sailors arrived in the early 1400s.
The first published account is 1854, then appearing in numerous publications in the 1900s including a mention by Thor Heyerdahl (Kon-Tiki).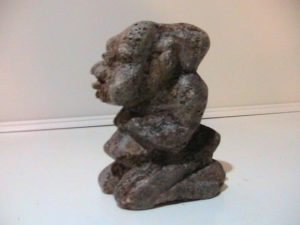 Nomoli is on exhibit in museums worldwide, collected by British royalty an have been auctioned at Sotheby's. Beware! They have been replicated and the market has been flooded with fakes.
Nomoli Ben has been featured on the History Channel Ancient Aliens. The Nomoli have been investigated by Angelo Patroni, Don Durban – Planet X TV, Walter Edmunds, and others. They are part of the art collection in the Maryland Museum since June 2016.
Nomoli is sometimes depicted with crocodiles connected to them. The Nomoli Gods were said to have infused their power into crocodiles. Natives revere crocs specifically due to the fact that these creatures could exist.
We talk about
How the statutes were made
The mysterious but powerful sphere in the figurine
An advanced civilization that used steel at a time where steel was not used on earth.
Ceremonies during which the figurines were treated as ancient leaders
Some figures being half animal half human body with a lizard head
Why there are holes in the heads of some stones for ceremonial liquids
What is the stone of Heaven
Are you looking to become a star? Nomoli Ben is looking for folks to appear on an upcoming TV show. Click for details