Podcast: Play in new window | Download (Duration: 49:16 — 45.7MB) | Embed
Subscribe: Apple Podcasts | Google Podcasts | Stitcher | TuneIn | RSS | More
Astrology for Mystics
In Astrology for Mystics. McQuillar explores the 4th,8th, and 12th houses- those connected with the element of water and all things occult, mystical, and spiritual. The fourth house, rules by the water sign Cancer, is traditionally the house of family, home, ancestors, and suffering. The eighth house, rules by the water sign Scorpio, the house of sex, death, secret powers, and transformation. The twelfth house, ruled by Pieces, is the house of karma, loss, unspoken expectations, fantasy, and confinement. Tayannah explains that these houses reveal the deepest areas of the individual psyche, which many people are reluctant to explore. Yet, this triad is the key to profound spiritual insights and the discovery of hidden knowledge and abilities.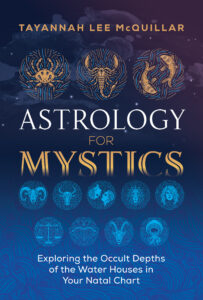 Best-Seller The Hoodoo Tarot 78- Deck and Book for Rootworkers
Offering a divinations system rooted in the Indigenous and African experience in North American, The Hoodoo Tarot provides a hands-on way to honor and explore the magic of Hoodoo for personal growth and spiritual inspiration

Between the 17th and 19ht centuries, any Indigenous Americans and people of African descent intermarry and socialized more often than is acknowledged by mainstream history books and scholars. These interactions produced a multicultural people and a body of knowledge that is known today as Hoodoo or Rootwork.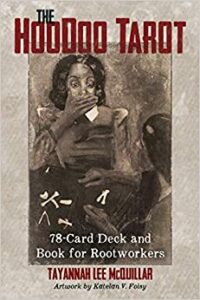 The concepts of Rootwork, The Tarot, and Astrology will open the door for you to step through a world that is filled with mystery and mystique
.Just as the truer American history is being exposed, this deep dive into the mystical world of the occult will share profound knowledge allowing you to make better choices for your life.
Tayannah Lee McQuillar is a tarot reader and researcher of religion, esoterica, and mysticism. The author of several books and divination decks. She lives in North Carolina.