Podcast: Play in new window | Download (Duration: 45:12 — 33.3MB) | Embed
Subscribe: Apple Podcasts | Android | Google Podcasts | Stitcher | TuneIn | RSS | More
Steven Sora talks about his new book Rosicrucian America: How a Secret Society Influenced the Destiny of a Nation

Rosicrucianism is a part of the founding history of the United States. Dr. John Dee, and Sir Frances Bacon, were the most influential men in the court of Queen Elizabeth I, part of an elite group with invisible control throughout Europe. And, as Steven Sora reveals, not only were they key members of the Rosicrucians, they were the driving force behind England's colonization of the New World and the eventual establishment if the United Stares.

It is timely to look back in history regarding the founding of the United States when today the Congressional House of Representatives is voting to impeach our current president.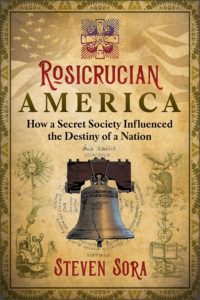 We Talk about
Sir Francis Bacon
Dr. John Dee
The Rosie Cross Society
Knights of The Golden Circle
Jesse James and The Younger Brothers influence in shaping America
Geomancy of Washington DC
The impeachment of the current white house occupant
The truth about Shakesphere – was he an educated scholar?
The KKK and masonic lodges
The Invisibles
Bram Strokers Dracula and the Rosicrucian connection
The Knights of Palace Athena
John Dee and Ian Flemming connection
The two most important Rosicrucian groups in America
Providing a thorough and expansive view of Rosicrucianism, it's occult origins and its deep imprint on America, Sora shows how this secret society still continues to exert invisible influence on the modern world.

Steven Sora has been researching historical enigmas since 1982 and is the author of several books including The Lost Treasure of the Knights Templar, and Secrest Societies of America's Elite. He was featured in the History Channel movie Holy Grail in America and on the TV show America Unearthed on History Channel 2. He lives in Easton, Pennsylvania.