Podcast: Play in new window | Download (Duration: 41:32 — 30.7MB) | Embed
Subscribe: Apple Podcasts | Android | Google Podcasts | Stitcher | TuneIn | RSS | More
Master herbalist Ellen Hopman talks to us about her latest book The Sacred Herbs of Spring: Magical, Healing, and Edible Plants to Celebrate Beltaine.

The festival of Beltaine, May Day, is a celebration of the return of spring and the promise of summer, a time for love magic and spells for increasing the fertility of the land and the plants that grow upon it. Like Samhain in autumn, Beltaine is also a time when the veil between the physical and spiritual world is at its most transparent, and the ancestors and denizens of the Otherworld easily interact with the world of humans. Although this podcast airs after Beltaine, there is a plethora of information and recipes shared to enjoy now and with ample time for study to implement on Beltain 2021.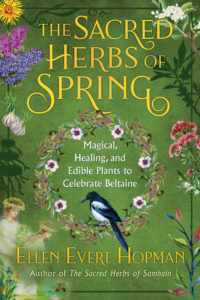 We talk about
The significance of the May Day festival to the ancients Celts
How fairies are magicians and doctors
Helpful spirits, how to invoke them
The foods of Beltaine
Definition of a Druid
The Romans and Beltaine
Why place Primose at your front door
The importance of ferns on May eve and Halloween
Psychic intuition
Astral travel
Woven throughout with mystical tales of folk, faery, and sacred herbs, this guide offers each of us practical and magical ways tp connect with Nature, the plant kingdom, and the SPirits that surround is in the season of spring.
Ellen Evert Hopman is a master herbalist and lay homeopath, who has been a Druidic initiate since 1984. She is a founding member of the Order of the White Oak, and Archdruidess of the Tribe of the Oak, and a member of the Grey Council of Mages and Sages.