Podcast: Play in new window | Download (Duration: 31:00 — 29.8MB) | Embed
Subscribe: Apple Podcasts | Google Podcasts | Stitcher | TuneIn | RSS | More
Voodoo Priestess Lilith Dorsey, M.A., joins me to discuss her latest book, Water Magic: Elements of Witchcraft.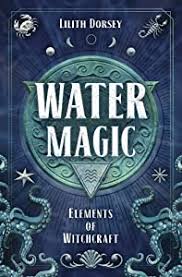 Water Magic reveals the amazing possibilities of using water in your modern practice. Once you learn to access the enormous depths of this life-giving and powerful element, it will enhance your magic and help you grow into a better version of yourself.
Cleansing and strong, the power of water is all around you and in you. Lilith Dorsey presents many ways to incorporate water into your magic, from washes and baths to spells and rituals. First, discover how to use the symbols of water in your magical workings. Next, learn the histories and wisdom of rivers, lakes, and oceans, as well as water's relationship to the wheel of the year. Finally, explore water and its manifestations in mythology and lore and meet the gods and goddesses who rule over the element.
We Talk about
Voodoo and African Religions
Haitian Vodoun – A spiritual system based in nature
The Voodoo connection to witchcraft
The meaning of water in dreams
The importance of ancestral energy
Spiritual baths
Maid of the mists
Water botanicals
Wate Goddesses
Gemstones and water
Sacred water sites
Shells and water
Lilith Dorsey M.A. hails from many magickal traditions. Their traditional education focused on Plant Science, Anthropology, and Film at the URI, NYU, and the University of London. Their magickal training includes initiations in Lucumi, Haitian Vodoun, and New Orleans Voodoo. Lilith Dorsey is also a Voodoo Priestess and has been doing magick since 1991 for patrons, filmmaker of the documentary Bodies of Water: Voodoo Identity and Tranceformation,' and choreographer/performer Dr. John's "Night Tripper" Voodoo Show. In addition, they are proud to be a published Black author of Voodoo and Afro-Caribbean Paganism, Orishas, Goddesses and Voodoo Queens, and Water Magic.