Podcast: Play in new window | Download (Duration: 42:14 — 29.1MB) | Embed
Subscribe: Apple Podcasts | Android | Google Podcasts | Stitcher | TuneIn | RSS | More
Beneath the surface: A Teen's Guide to Reaching Out When You or Your Friend Is In Crisis by Kristi Hugstad talk with, rather down to, teens, about issues like depression eating disorders, PTSD, anxiety, bullying, substance abuse, suicide, and more, and encourages them to reach out for help when they need it.
On November 14, 2019, there was yet another mass shooting in the United States when the teen was behind the gun.
According to CNN, there is no known motive for the shooting and no known connection between the shooter and the victims. As a result, a 16-year-old old girl and 14-year-old boy lost their lives. and three more were wounded.
Kristi Hugstad's comment
"The mass shooting in Santa Clarita November 14, 2019, is starting to feel like a typical news story and it's unbelievable how normal this type of incident is becoming. What was going on in this 15- year -old boy's mind?
Are mass shootings a mental health problem? It's difficult to psychologically profile mass shooters because they are often killed or complete suicide during their attack. The perpetrators are frequently angry young men who feel they have been mistreated by teachers, peers, parents, or society at large. Were there signs the perpetrator was experiencing psychological disorders such as anxiety, paranoia, and depression?
Mental health issues are skyrocketing in our country and it's time to be proactive. Our hands are not tied as to how to deal with it. Active shooter drills are not enough. Parents, teachers, administrators, and teens need to learn the warning signs and risk factors of issues our teens are facing today so they can get help before it's too late. Education is the first step!
Beneath the Surface, A Teen's Guide to Reaching Out When You or Your Friend is In Crisis"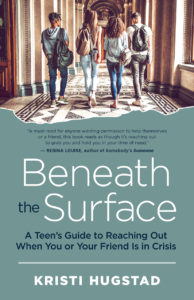 Hugstad's book includes testimonials from teens who have been depressed attempted suicide and survived. Their real-world experiences highlight ways that kids can recognize danger signs in their own lives, help a friend in trouble, and find nonjudgemental empathetic help.
We talk about
Brain maturity occurring between the ages of 25 and 30
Fifteen million kids in the United States have parents who are depressed
Substance abuse
Symptoms of teen depression
Symptoms of teen suicides
Bullying and teens
Gender confusion
Social uncertainty
Self-harm
Healthy lifestyle creation
When will teen mass shootings end?
Throughout my career, I've has the honor of working with, talking to, and teaching teens. I am constantly in aew of therir ambition, creativity, positively, passion, and kindness. My hope for all the teen readers of this book is that, as you continually learn, grow, and evolve, you fine ways to harness these charactictics for your own benefit and the benefit of others. When you recognize and address whatever is lurking beneath the surface, it loses power over you, allowing you to become the person you were always meant to be: Simply incredible"
Kristi Hugstad is the author of Beneath the Surface and What I wish I had Known, addresses her husband's suicide. A certified grief recovery specialist and a grief and loss facilitator for recovering addicts at South Coast Behavioral Health, Kristi frequently speak at schools. She is also the host of The Grief Girl podcast and lives in Orange County, California. www.thegriefgirl.com