Podcast: Play in new window | Download (0.0KB) | Embed
Subscribe: Apple Podcasts | Google Podcasts | Stitcher | TuneIn | RSS | More
---
---
Jia Gottlieb, MD, talks about his new book aah…The Pleasure Book. Learn how the simple pleasures in your life can bring ecstasy!

---
In aah…The Pleasure Book  Jia Gottlieb, MD, sets out to redefine and reclaim the wisdom of pleasure as a natural resource as essential to our health and well-being as fresh air and clean water and the key to a fulfilling and meaningful life. Interweaving his own life experiences and work as a healer with insights from history, religion, philosophy, neuroscience, and mysticism, Dr. Gottlieb offers a deep and clear understanding of pleasure—what it is, what it isn't, and why we need it. 

But the author aims to do much more than changing the way we think about pleasure. Instead, Dr. Gottlieb provides an accessible, encouraging guide to incorporate the art and practice of joy into our relationships, work, play, and everyday habits.        
---
What is aah… pleasure?
"Pleasure is an experience that feels good. If it fills your body with delightful sensations, evokes warm feelings in your heart and positive thoughts in your mind, brings a smile to your lips, excites, amuses or satisfies, lifts your spirits or inspires a sense of well-being, meaning, and purpose, then it's a pleasure.  And we are biologically hardwired to seek it," he observes.
---
Sounds wonderful. So, why in our pursuit of pleasure do we often end up in pain and suffering? As Dr. Gottlieb explains, it's because we are often confused and beguiled by empty pleasures—junk food, reckless sex, greed, fame, and other ultimately unsatisfying pursuits. This dissatisfaction leaves us endlessly hungry for more, which drives overconsumption and the global crises that threaten to destroy our health and environment.
Dr. Gottlieb looks at pleasure as a prism of experiences with four levels: physical (think pleasures of the flesh), emotional (love, fun, and other prosocial feelings that make us human), mental (from the delight of learning new ideas to the satisfaction of finding our purpose), and spiritual (including ecstasy, bliss, and coming to peace with how we fit into the big picture). He distills the essence of his rich offering into the Seven Immutable Laws of Pleasure.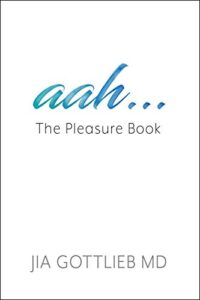 ---
We talk about
The energy of pleasure
The p,hysical, biological, cultural, and spiritual essence of feeling good
The Pleasure /pain threshold
Cultural pleasures
Pleasure as a natural resource
Three gateways to paradise
The pleasure centers
---
For anyone struggling with self-doubt, addiction, obesity, shame, or guilt, aah…The Pleasure Book presents a practical path to healing and the tools to transform their life joyfully. 
---
JIA GOTTLIEB, MD, was born to an Austrian Jewish father and Chinese mother and grew up in a white, middle-class suburb outside of Chicago. After graduating from college, he backpacked around the world for a year. During a 12-day trek in the Himalayas, he found his calling as a doctor. He received his MD from Northwestern University, completed his residency in family medicine at the Community Hospital of Sonoma County, California, and then traveled to China, Japan, and India to study acupuncture, martial arts, yoga, and other ancient practices. Shortly after returning to the States, Dr. Gottlieb established Still Mountain Clinic in Boulder, Colorado. He provides patients a unique therapeutic approach based on his extensive training in Western medicine and Eastern healing arts.