Podcast: Play in new window | Download (Duration: 48:05 — 36.2MB) | Embed
Subscribe: Apple Podcasts | Android | Google Podcasts | Stitcher | TuneIn | RSS | More

Good Sugar Bad Sugar: How To Power Your Body and Brain with Healthy Energy by Christopher Vasey, N.D. has written an easy to follow guide to replacing bad sugars in your diet with good sugars for overall health.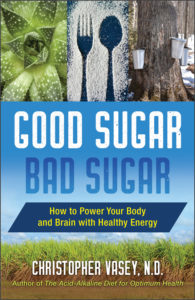 One of the most valuable nutritive substances we can consume, sugar supplies the essential energy the body and brain need to function. But there are good and bad, healthful and harmful forms of sugar. Good sugars are those found naturally occurring in foods such as fruits, honey, maple syrup, and whole grains. These unrefined sugars not only provide energy but also trace elements, minerals, and vitamins – nutrients crucial to helping the body process sugar. Baad sugars are those that are man-made or refined, such as white sugar, white flour, and artificial sweeteners. Pervasive in the modern diet, bad sugars are difficult for the body to metabolize and lead to a host of health issues, including tooth decay, type 2 diabetes, brain fog, mood swings, and weight gain.
We Talk about
The role of sugar in your body
Define good and bad sugars
The consequences of consuming too much bad sugar
Fast sugar vs slow sugar
Why we are addicted to sugar
How to maintain uplifting energy throughout the day
How sugar production is bad for the environment
The different types o carbs and how much sugar they produce
Why multigrain bread is not necessarily the best option
The nineteen bad sugars
The skinny on synthetic sugar
Whole sugar vs refined sugar

Christopher Vasey, N.D., is a naturopath specializing in detoxification and rejuvenation. He is the author of several books, including The Acid-Alkaline Diet for Optimum Health, Natural Remedies for Inflammation, Liver Detox and Natural Antibiotics and Antivirals. He lives near Montreux, Switzerland.