Podcast: Play in new window | Download (Duration: 48:56 — 34.6MB) | Embed
Subscribe: Apple Podcasts | Android | Google Podcasts | Stitcher | TuneIn | RSS | More
Integrative Medicine is the combining of both Western conventional and natural approaches to health. Dr. Bonnie McLean tells us all about it in her new book Integrative Medicine: The Return of the Soul To Healthcare
In the west, when we go to the doctor they prescribe a drug or want to do a diagnostic procedure or perhaps think some kind of surgery is necessary. This approach is geared to "fix" something that is wrong with us.
Natural medicine is based on the belief that the body is a self-healing mechanism. If it is ill, it is out of its own balance. This approach is focused on correcting that imbalance.

There are different approaches to do this depending on the specialty; Some examples are: Chiropractic focuses on the structure of the body. Acupuncture focuses on the energy body, soft tissue, and fascia. Massage focus on the muscles and soft tissue. Herbology, naturopathy and functional medicine focus on nutritional imbalances. Integrative medicine uses the best of both approaches plus the self-empowerment of the patient in participating in their own healing process through education and lifestyle change.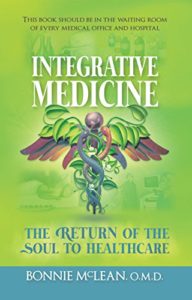 We talk about
The advantages of Integrative Medicine
The return of the soul of healthcare
How to heal the whole person
Becoming an empowered patient
What the positive and negative ions in cells are and how they affect us
Shamanic and energy healing
The importance of eating local honey
The benefits of New Zealand Manuka honey
How to become aware of self
Organic food
Exercise
Halting body abuse
How stress hormone affects the body
Adrenal fatigue
Inflammation the root of all illness
Essential oils and your health

Dr. Bonnie McLean O.M.D., A.P, M.A., B.S.N. is the founder of Spirit Gate Medicine. She was recently selected as Top Doctor of Oriental Medicine and Acupuncturist of the Year for 2019 by the International Association of Top Professionals. for her outstanding leadership, dedication, and commitment to the industry.

With over five decades of professional experience in the healthcare industry, Dr. McLean has proven herself as an accomplished expert with many different forms of integrative medicine, health, and wellness to include Chinese Medicine, hypnosis, nutrition, Chinese herbal formulas electro-stimulation, energy healing, energy psychology, and shamanic healing.

As a dynamic, results-driven leader, Dr. McLean as demonstrated success not on;y as a Doctor of Oriental Medicine and as an Acupuncture Physician, She is also a popular writer, author, and speaker.