Podcast: Play in new window | Download (Duration: 52:50 — 36.3MB) | Embed
Subscribe: Apple Podcasts | Android | Google Podcasts | Stitcher | TuneIn | RSS | More
Ten million Gen X and Baby Boomer parents have estranged adult children. Psychotherapist Tina Gilbertson tells us how to heal those relationships in her new book, Reconnecting with your Estranged Adult Child: Practical Tips and Tool To Heal Your Relationship.
Parents wonder: How did this happen? Where did I go wrong? Ove time, holidays, birthdays, and even the birth of grandchildren may pass in silence. Anguish may turn to anger. While tome, in and of itself, does not necessarily heal, actions do. While every estrangement includes situation-specific variables, there are practical, useful, and universal techniques for understanding and repairing these not- uncommon breaches.
Change is possible, both within and without. The most significant burden for estranged parents is an unnecessary shame. Healing from estrangement is an opportunity for intense personal growth if you're up to it. This is true whatever the outcome may be.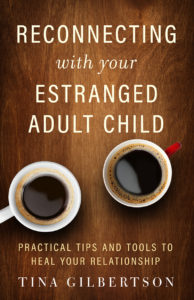 We talk about
The difference between an estranged relationship and your adult child ignoring you
Why some kids cut off their parents
Emotional and physical abuse- is there a difference?
Addiction – the child's and the parents
When to get professional help
Does your child hate you?
When kids feel unloved/invisible
The pain of silence
Third-party influence and the adult child
Should you "make" your child talk?
Differentiation vs. Individualization
Compassion is the key to healing
Tina Gilbertson is a psychotherapist and author. Her work has been featured in Forbes, Fast Company, Glamour, Real Simple, and Redbook. In 2019, Tina co-founded www.reconnectionclub.com with her husband Mike, offering education, community, and support to help estranged parents repair their relationships with their adult children. She lives in Denver, CO.