Podcast: Play in new window | Download (Duration: 43:40 — 31.5MB) | Embed
Subscribe: Apple Podcasts | Android | Google Podcasts | Stitcher | TuneIn | RSS | More

Loving Out Loud: The Power of a Kind Word is a new book by New York Times bestselling author Robyn Spizman. She teaches us how easy and life-affirming loving out loud can be. Loving out loud and the power of a kind word will help with manifesting, healing and having a balanced life.

While it can be easy to feel like it is impossible to make a positive difference in these divisive times, Loving Out Loud: The Power of a Kind Word promises that our words can go a long way in that regard, especially when we share them out loud.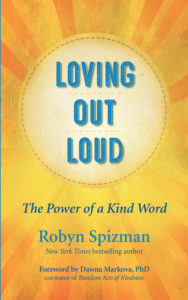 Loving Out Loud offers readers creative ideas and practical insights for cultivating kindness in their lives while connecting more deeply with the world around them. The book is divided into chapters that provide readers with powerful ways for raising kinder children; loving their significant others, family, and friends; and valuing teachers, coworkers, and everyone in between.
We talk about
Creating a to love list nota to-do list
Focusing on the positive to raise your vibration
How to slow down and pay attention to others more
A good life is built one day at a time
Raising kinder children
Bonding with your family
The importance of volunteering
Work etiquette show sincere interest in others
How to communicate in a non-threatening way
Give yourself the gift of listening
Don't cry over things that can't cry over you
Letting go of being right opens many doors
Robyn Spizman is the author of Loving Out Loud. She is a popular keynote speaker who has appeared in the media for over three decades, including on NBC's Today Show more than thirty times. She lives in Atlanta.