Podcast: Play in new window | Download (Duration: 26:45 — 24.6MB) | Embed
Subscribe: Apple Podcasts | Google Podcasts | Stitcher | TuneIn | RSS | More


Lots of people are tired of living a life based on comparison, competition, lack, and fear. They want to feel better but don't know how. The award-winning book The Full Spirit Workout will show you how to live your very best life.
Kate Eckman, accomplished entrepreneur, elite athlete, mindfulness expert, and Columbia University certified executive coach. used to be like lots of people. On the surface, Kate was a successful and high-level performer. But deep down, her life was full of less-tangible roadblocks- excess mental and emotional weight, deep-seated insecurity, self-judgment, and overwhelming stress and anxiety. It took a massive wake-up call to change the way she looked at herself and her life. She dove headfirst into finding keys to generate a sense of self-worth and contentment from within.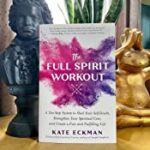 By following The Full Spirit Workout, readers will become more emotionally resilient and maintain their equilibrium, develop positive self-talk habits, increase feelings of well-being, allow abundance to come into their lives and out their unique gifts to use, get off the treadmill and cool down by cultivating small, meaningful moments of mindfulness and stillness throughout the day,
We talk about
Mental Illness and why it is more important than physical fitness
How a perceived mental break can truly be a door opening to a better way of living
The 5 "P'S and a "U" to live your very best life
How to rock the freedom lifestyle
How to find and then strengthen your core confidence
How to unlearn the lies that were ingrained in us as children
How to build your spirits immunity
Avoiding the "S" word for a full life. Hint – it is not sugar!
KATE ECKMAN is a broadcast journalist and TV personality who brings her expertise in communications, performance, and mindfulness to her practice as a success coach for business leaders and athletes. She earned a BA in communications from Penn State University, where she was an Academic All-American swimmer, and received her master's degree from Northwestern University's Medill School of Journalism. She graduated with the highest degree from Columbia University's executive and organizational coaching program. Kate is also a certified ICF coach, a licensed NBI consultant, and a meditation teacher and course creator for Insight Timer, the world's number-one ranked free meditation app.