Podcast: Play in new window | Download (Duration: 56:40 — 39.1MB) | Embed
Subscribe: Apple Podcasts | Android | Google Podcasts | Stitcher | TuneIn | RSS | More

Hersch Wilson a former firefighter talks about his new book – Firefighter Zen: A Field Guide To Thriving in Tough Times.
"Be brave. Be kind. Fight fires." That's the motto of firefighters, like Hersch Wilson,
who spend their lives walking toward, rather than away from, danger and suffering.

Hersch talks about looking at the troubles our world is in now and what we as individuals can do to heal the negative soup we all are swimming in.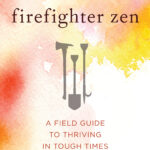 Wilson shares how to maintain perspective and equilibrium even in the midst of urgency and
to prepare for adversity as well as aftermath and recovery. Finally, six key strategies for
thriving in the face of difficulty include practical exercises and real-world advice. Every
life contains the unexpected and the unwelcome. Since how we cope with those
inevitable events, more than the events themselves defines the quality of our lives,
Firefighter Zen is an invaluable guide to meeting every day with our best calm, creative, and optimistic selves.
We Talk about
Hersch Wilson and his wife, Laurie, became volunteer firefighters in 1986. He has
worked as an organizational consultant, pilot, outdoor adventure trainer, professional
dancer, and author. He writes for Backdraft magazine and other publications. He lives in
Santa Fe, New Mexico.